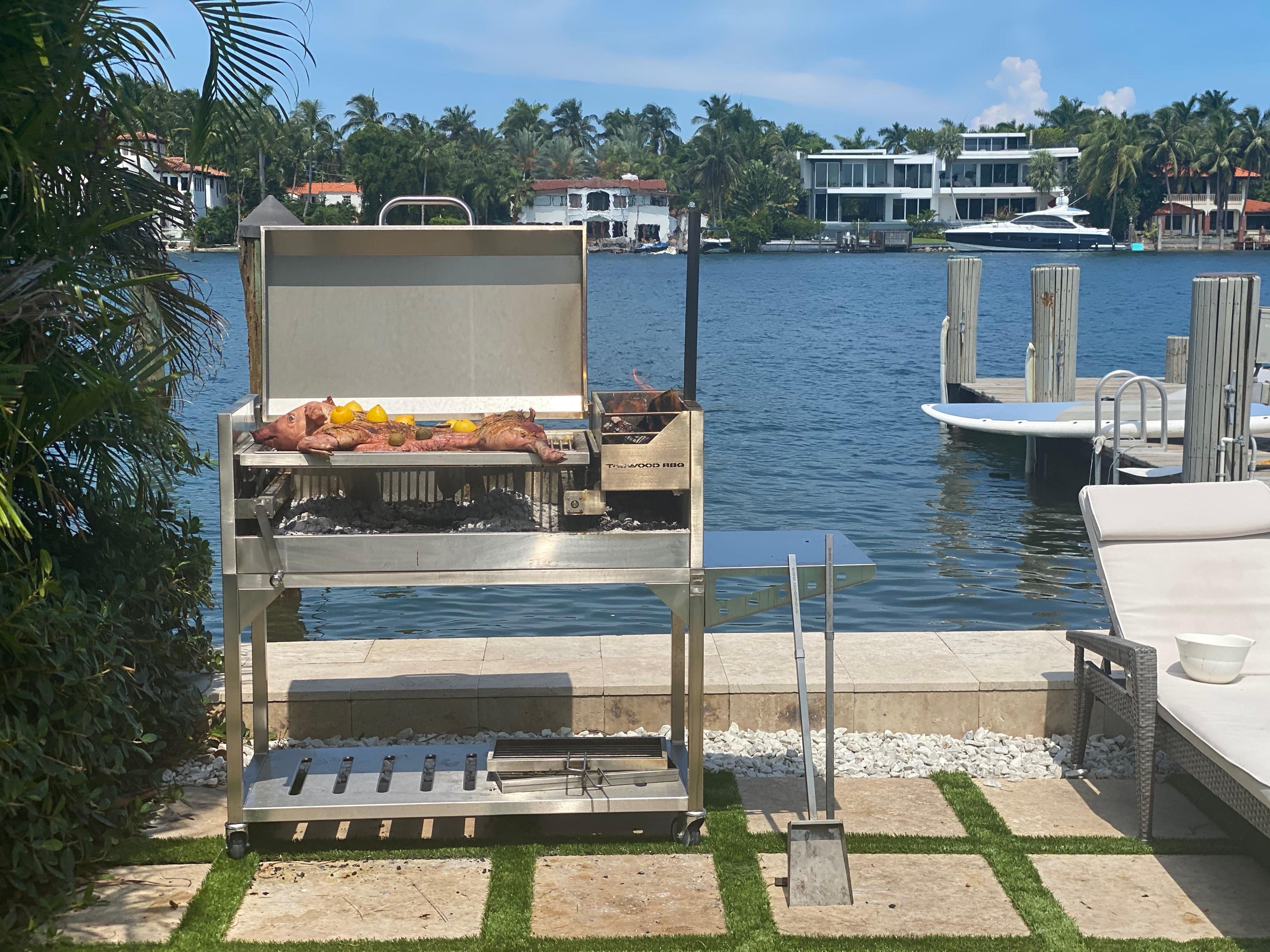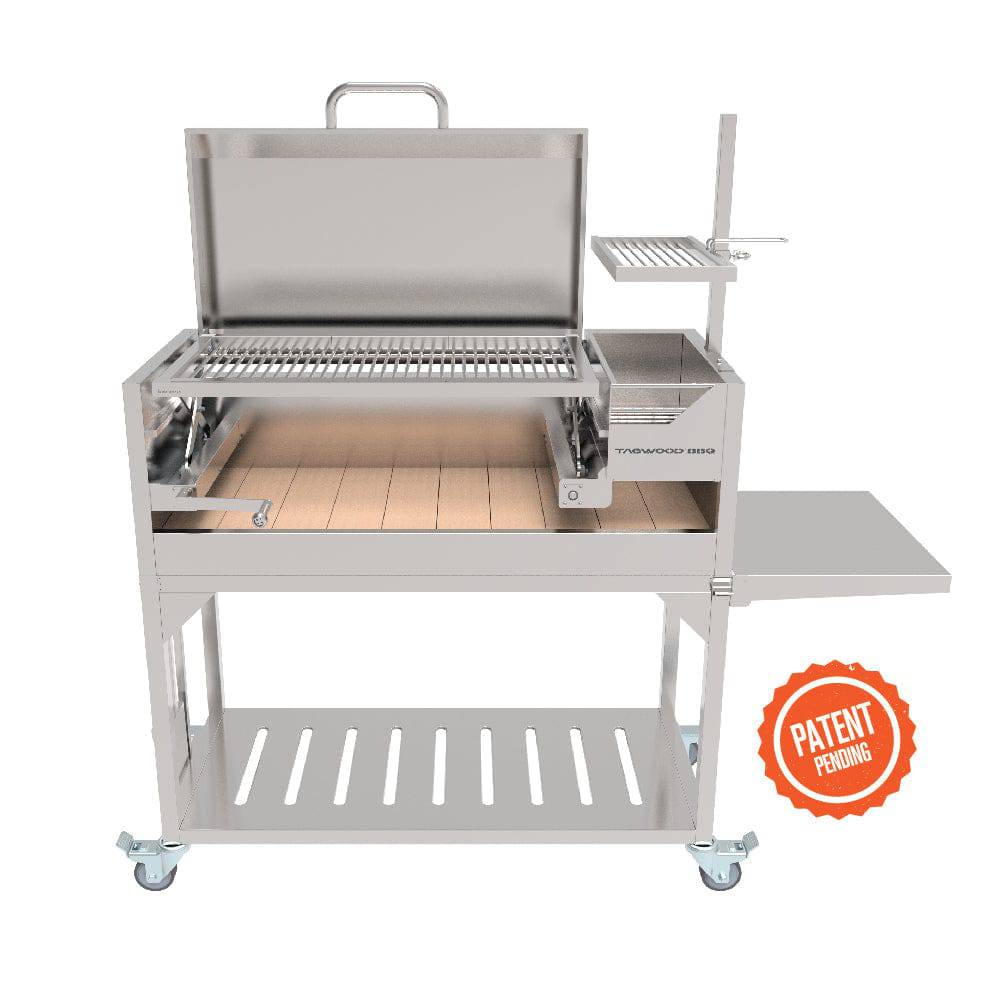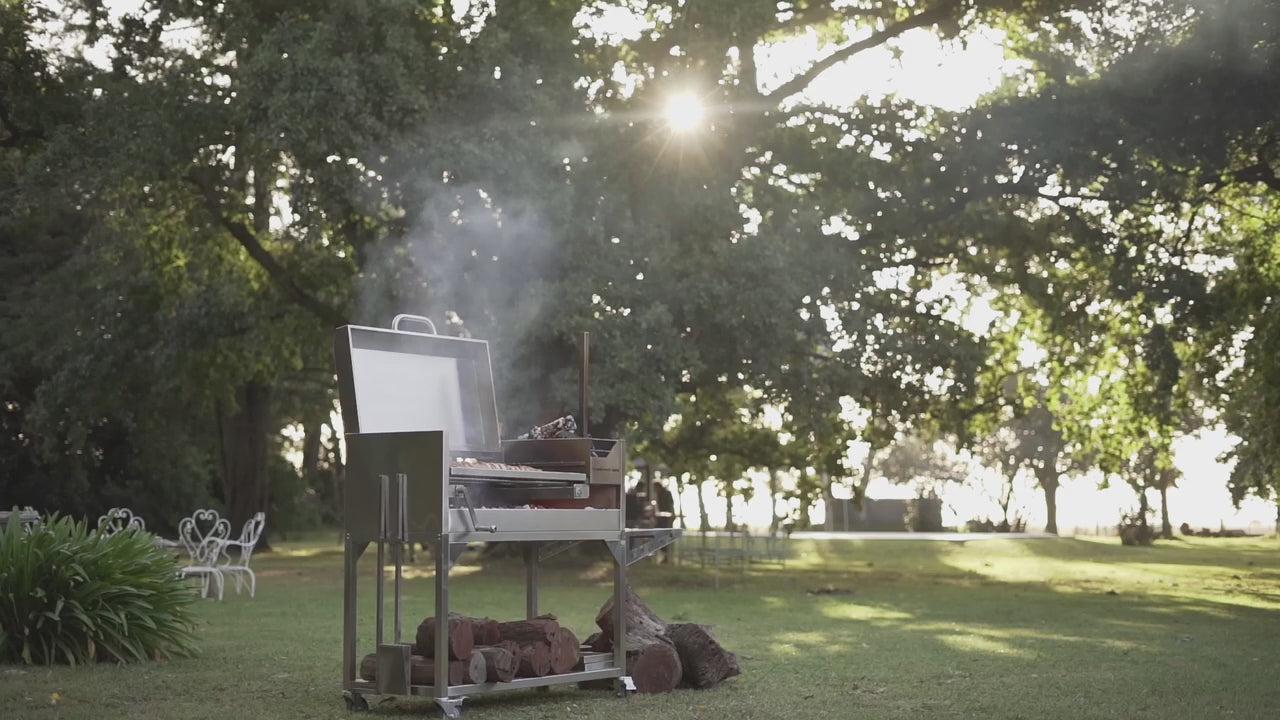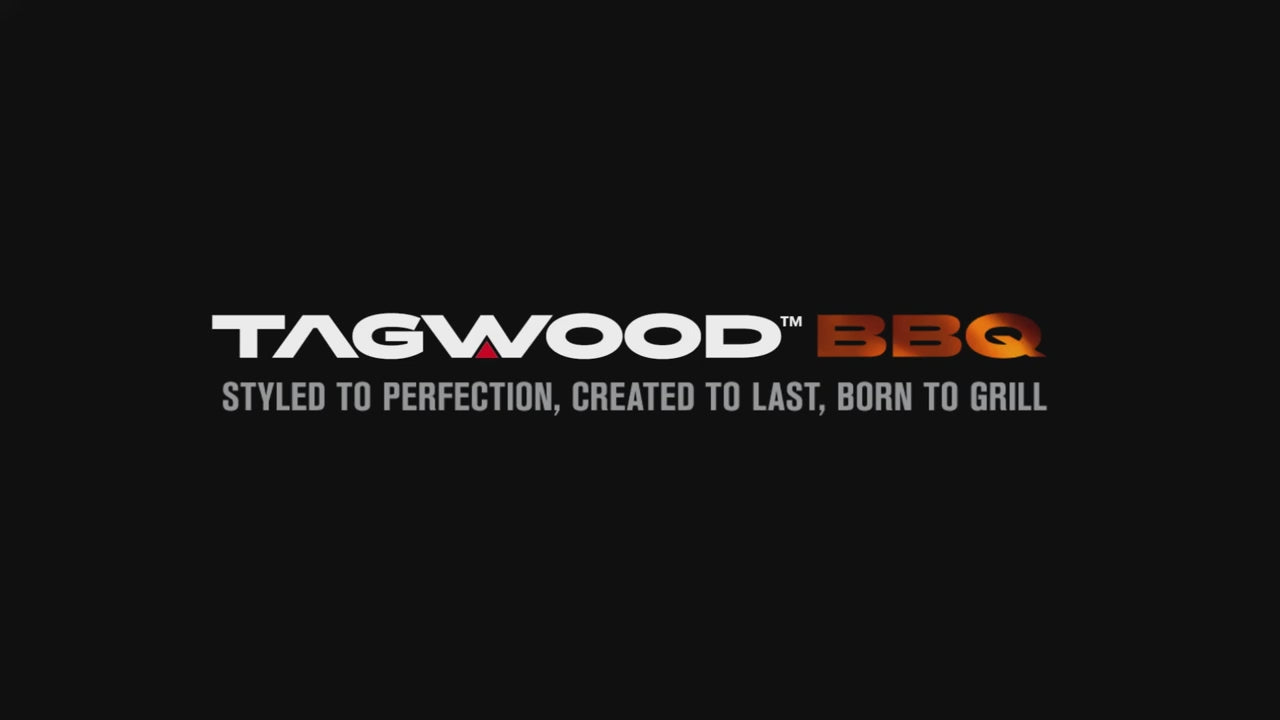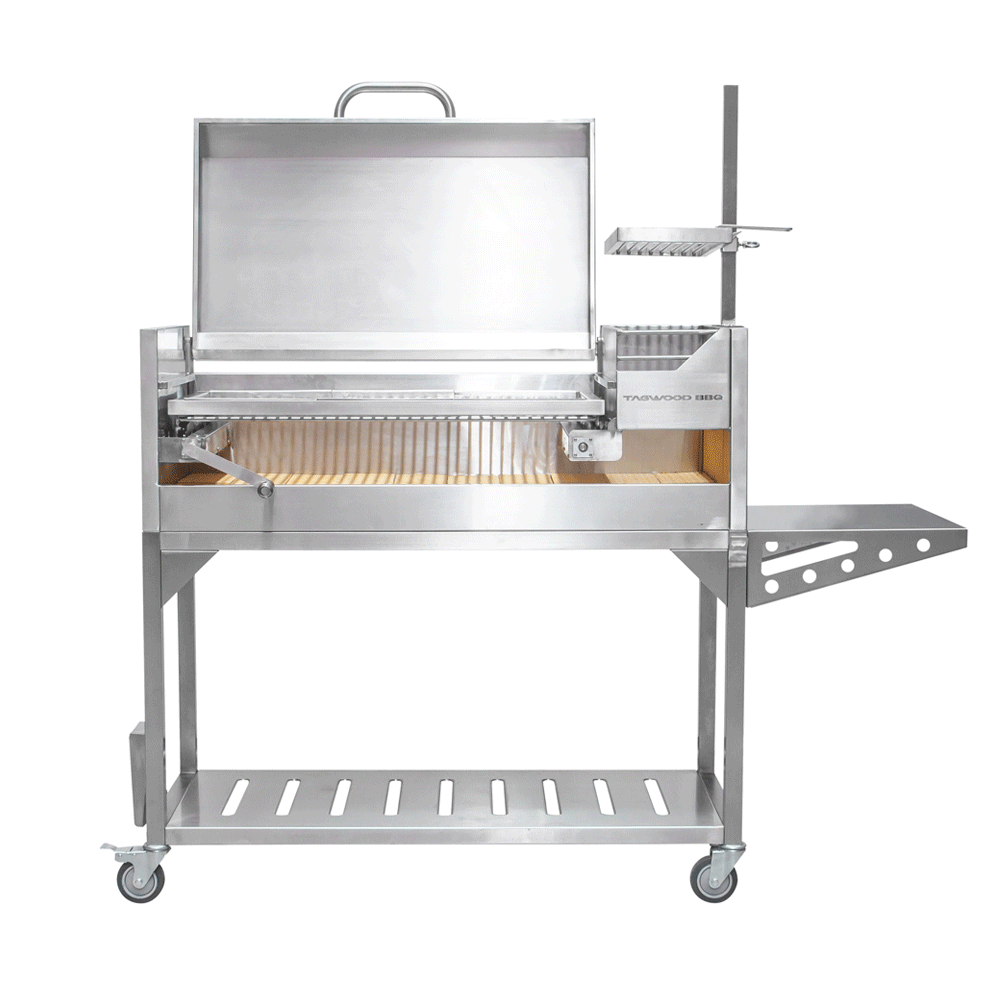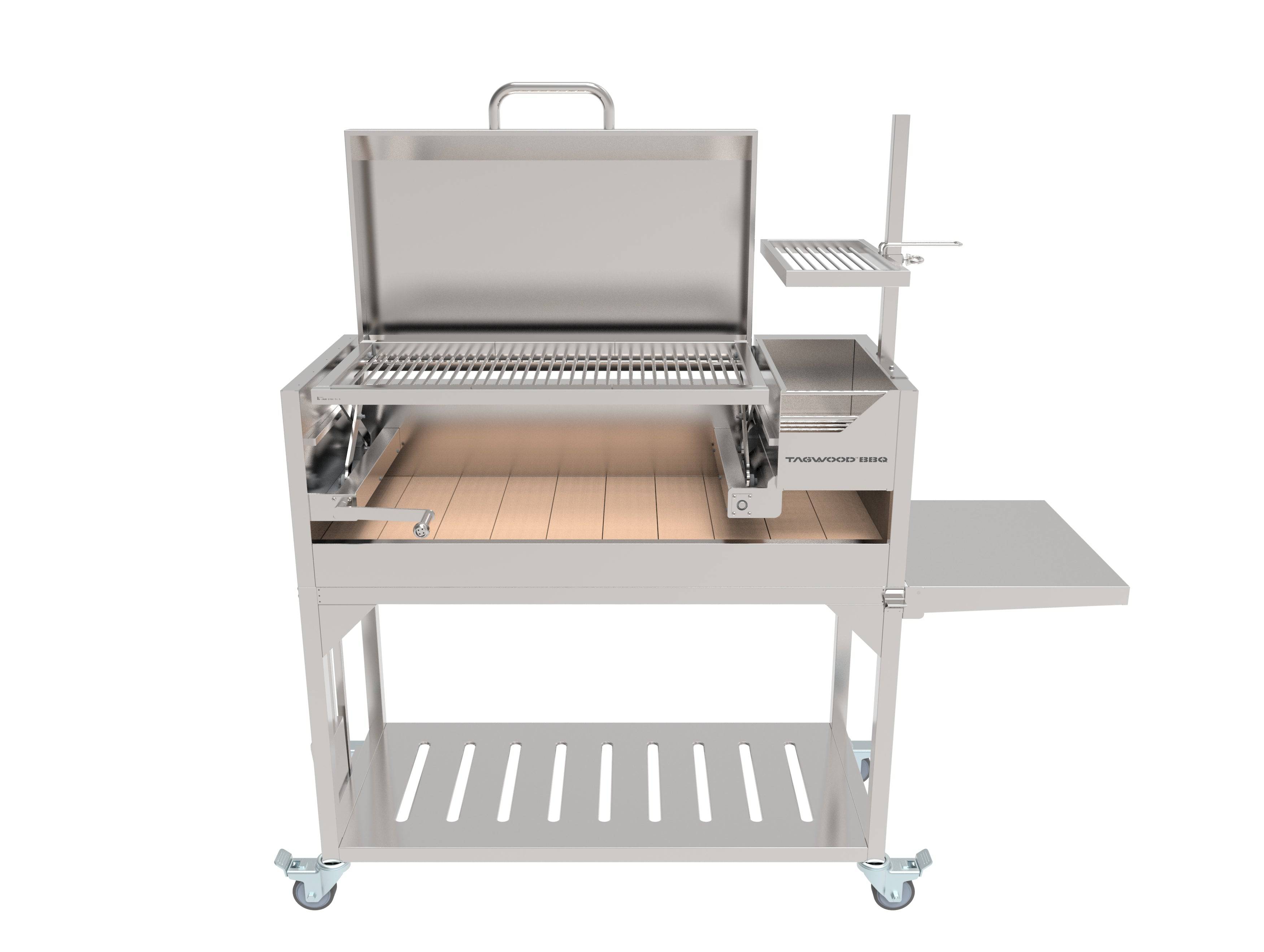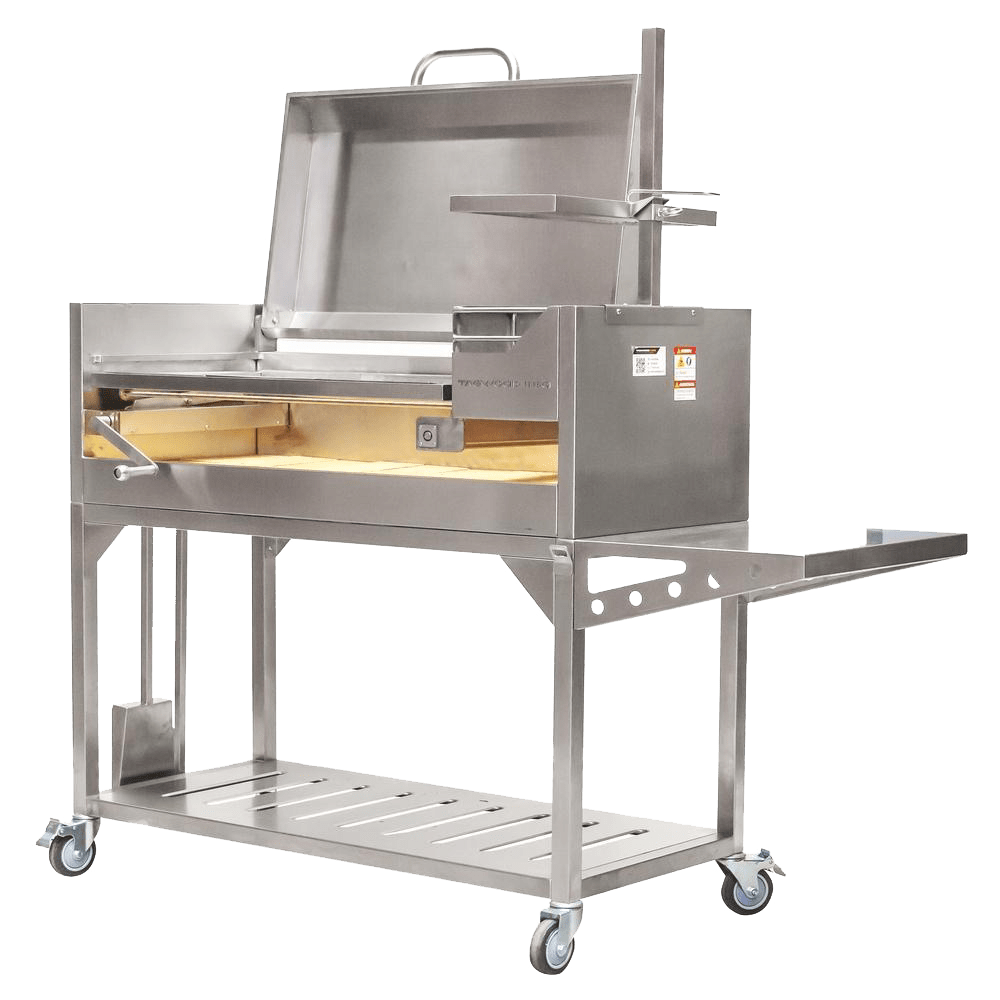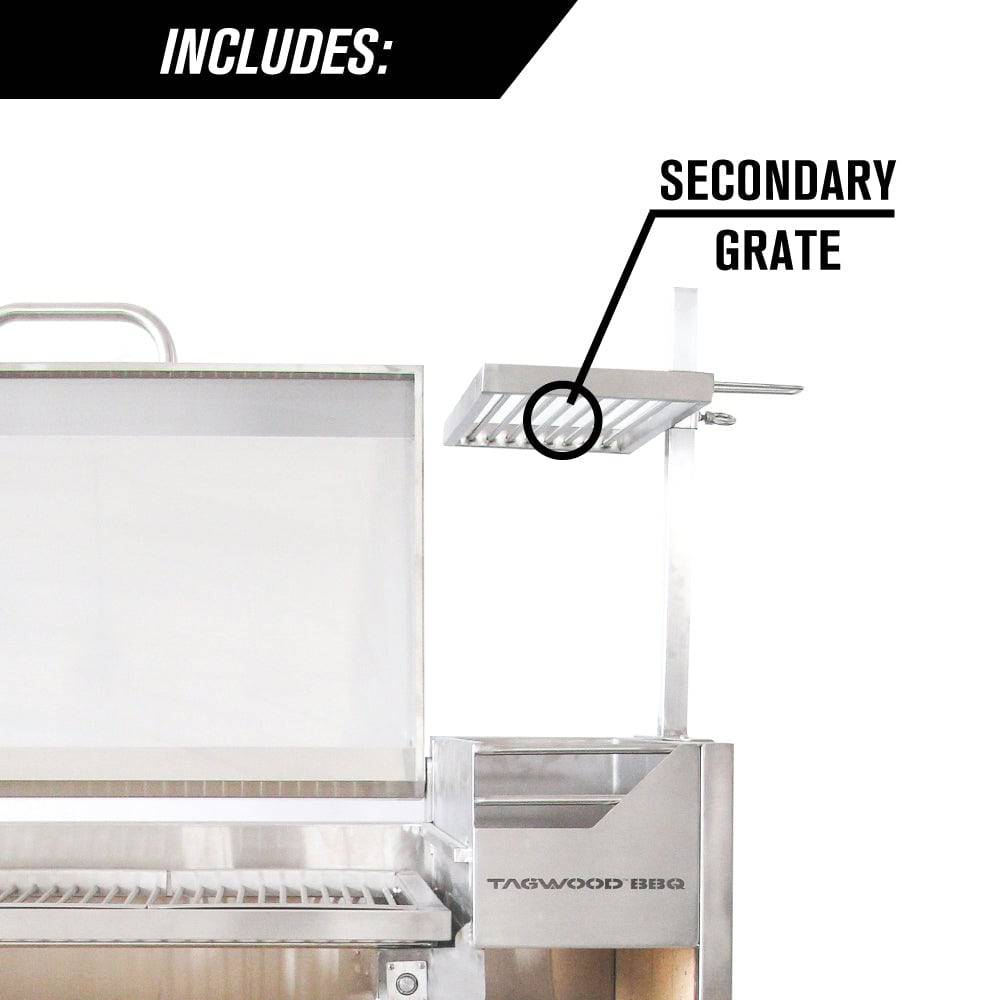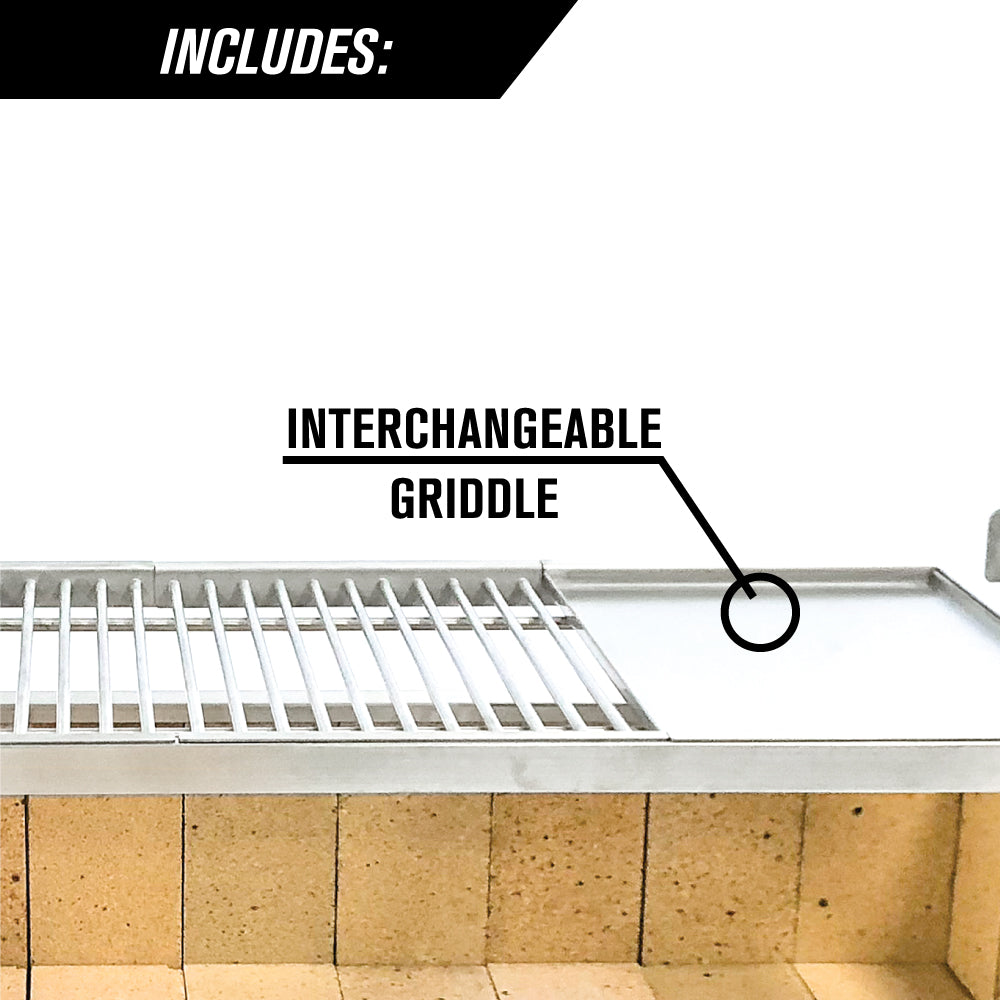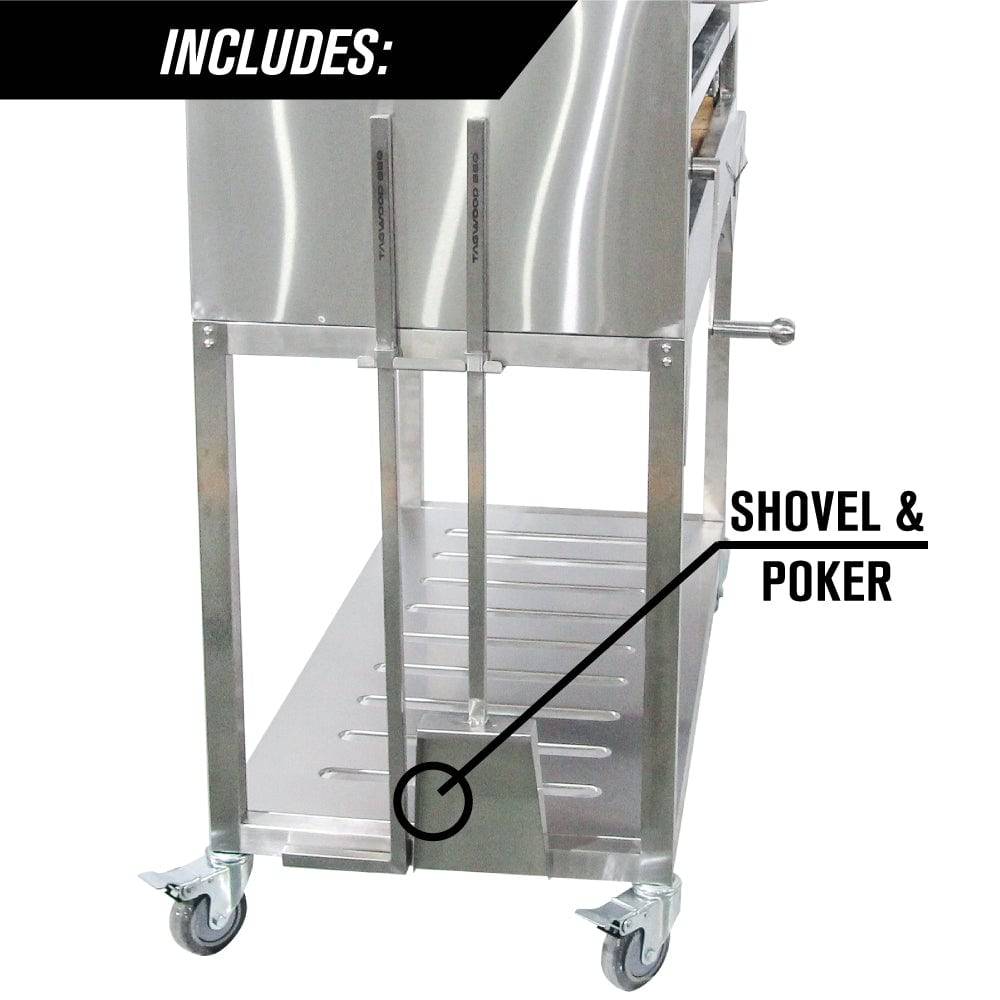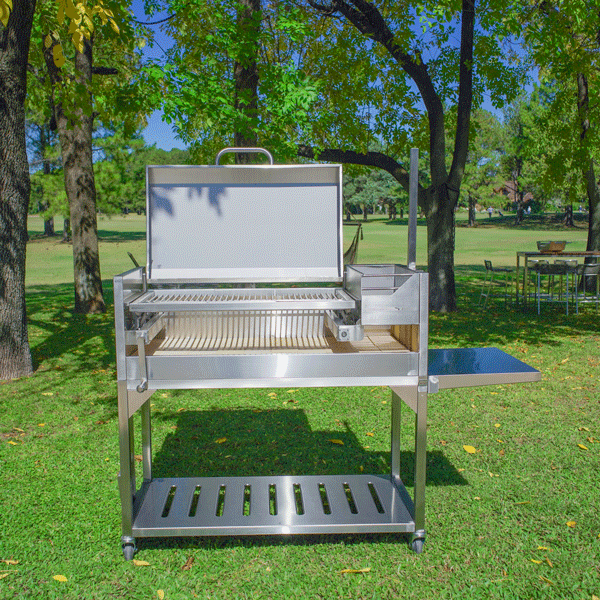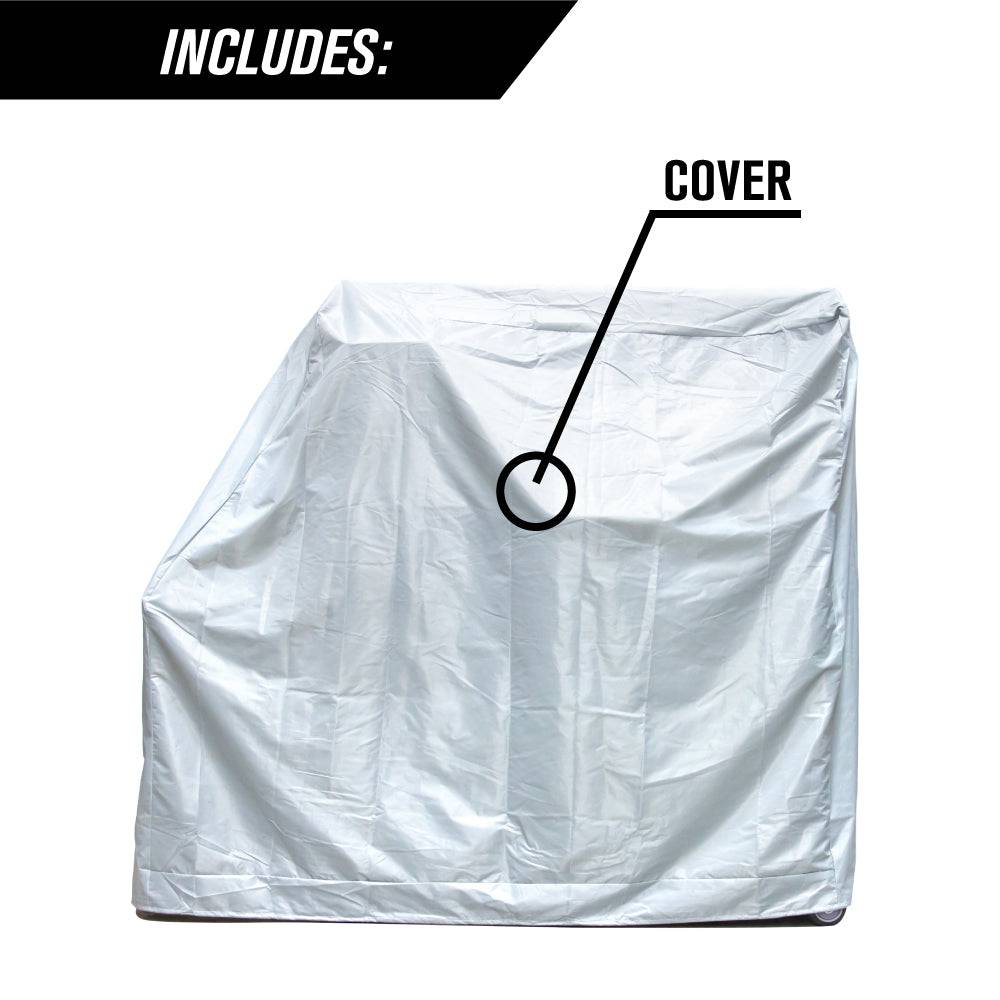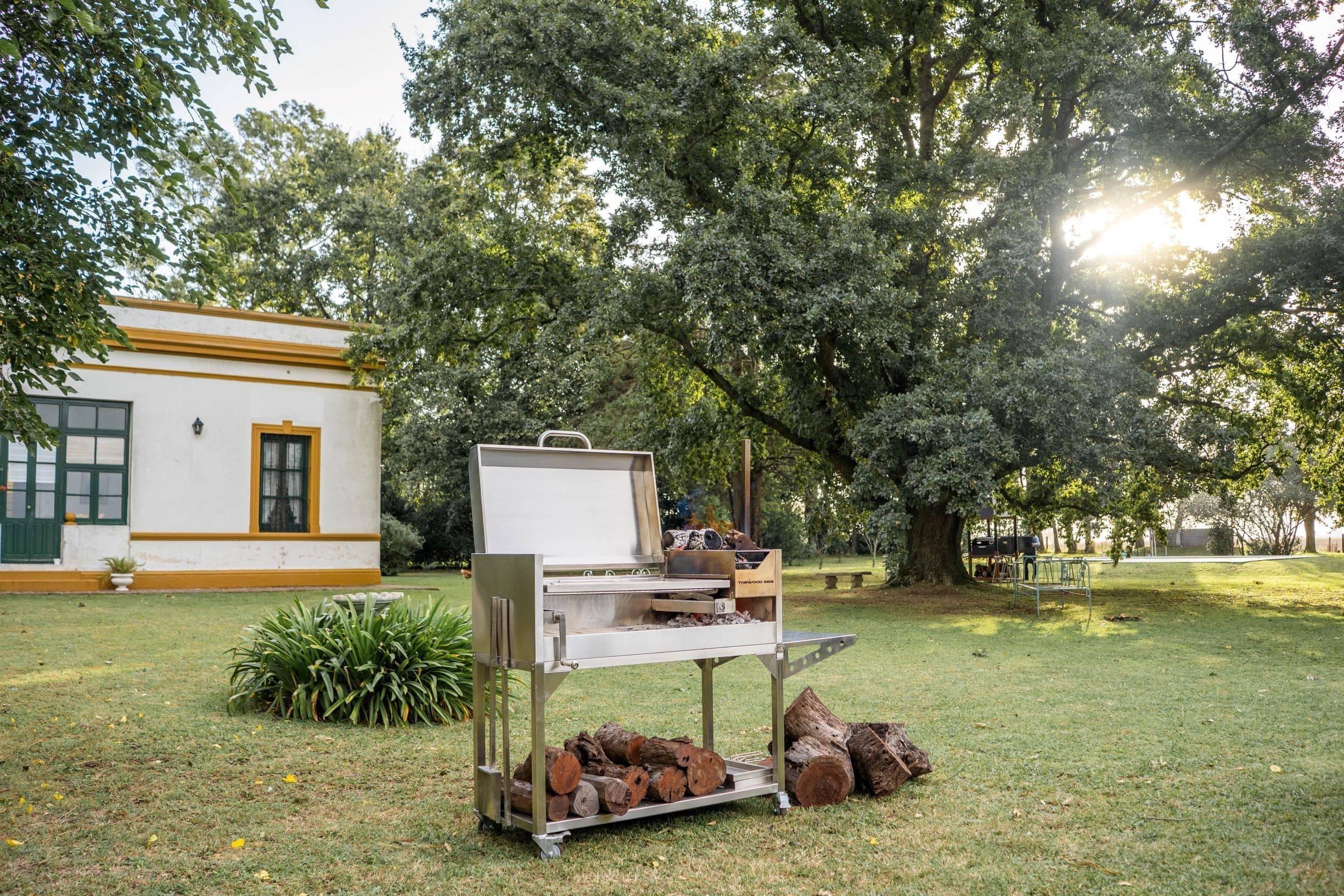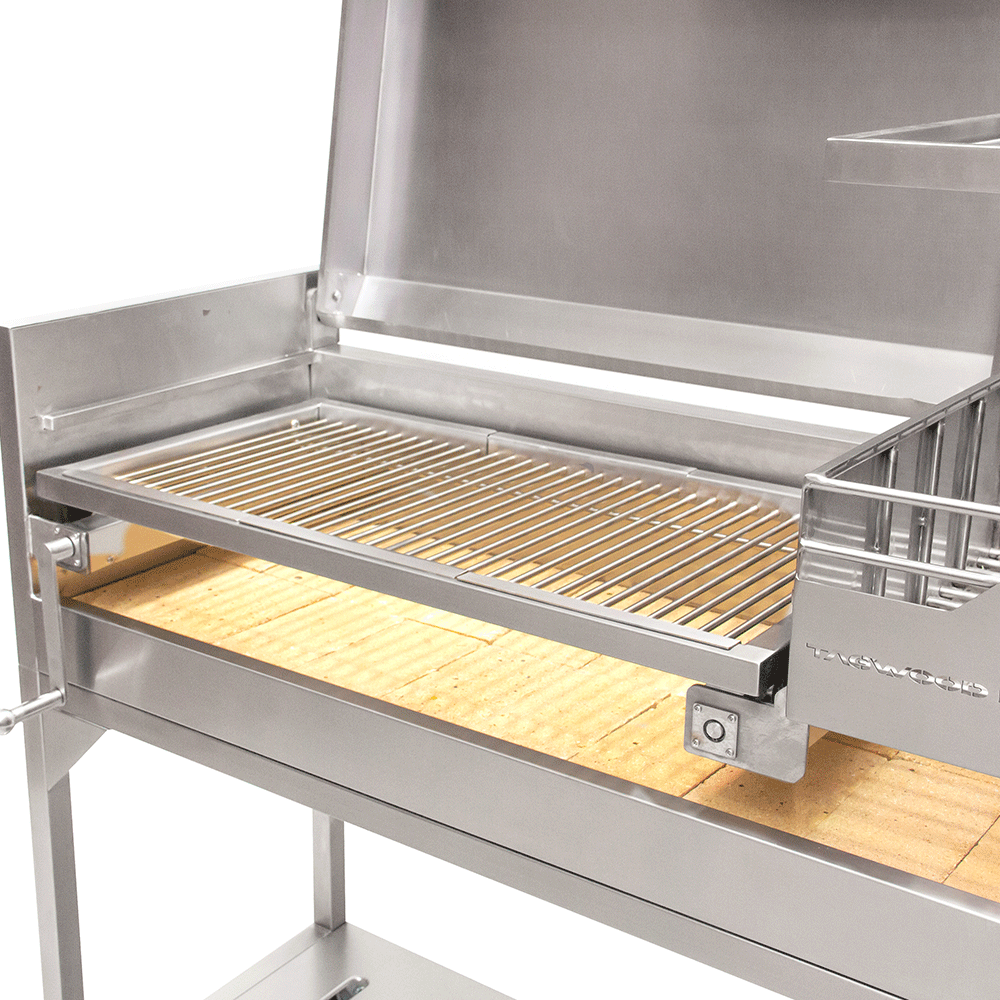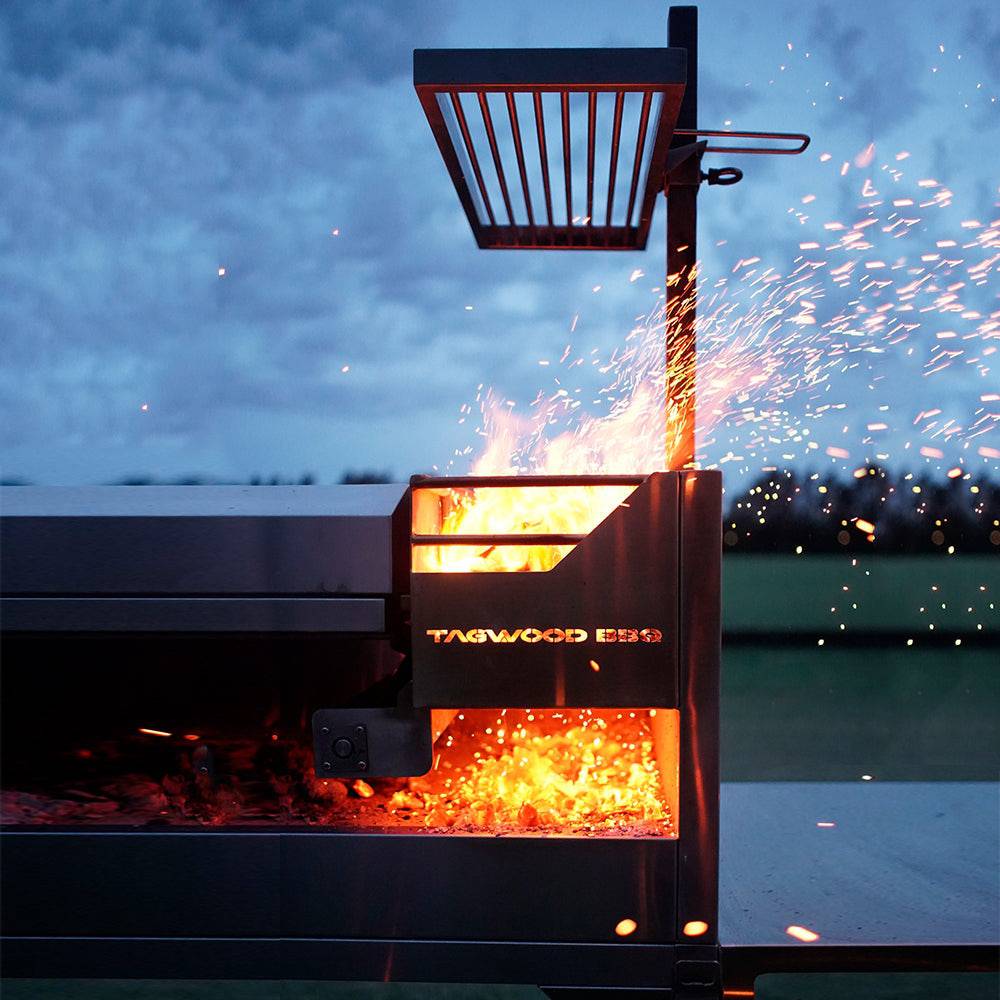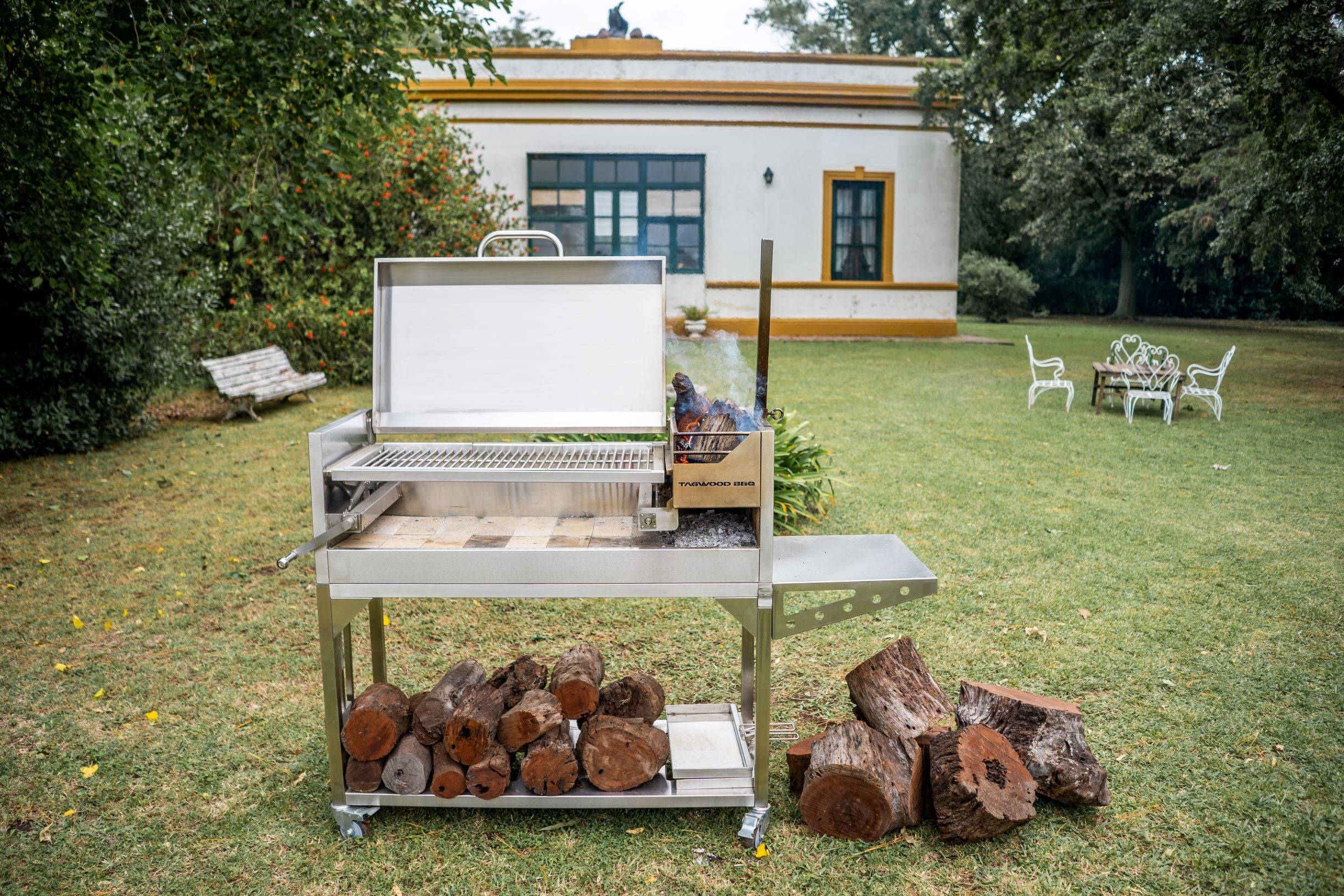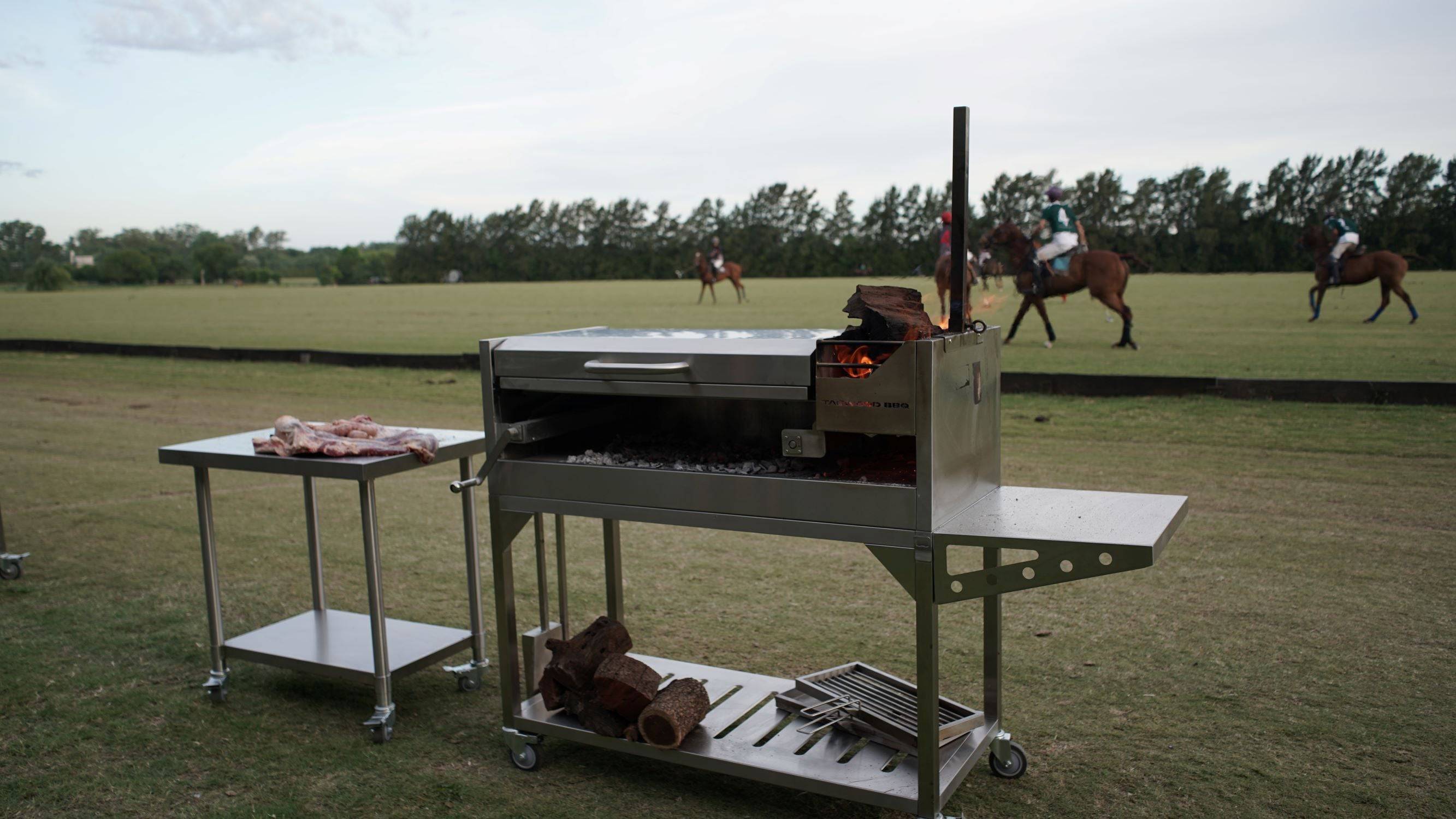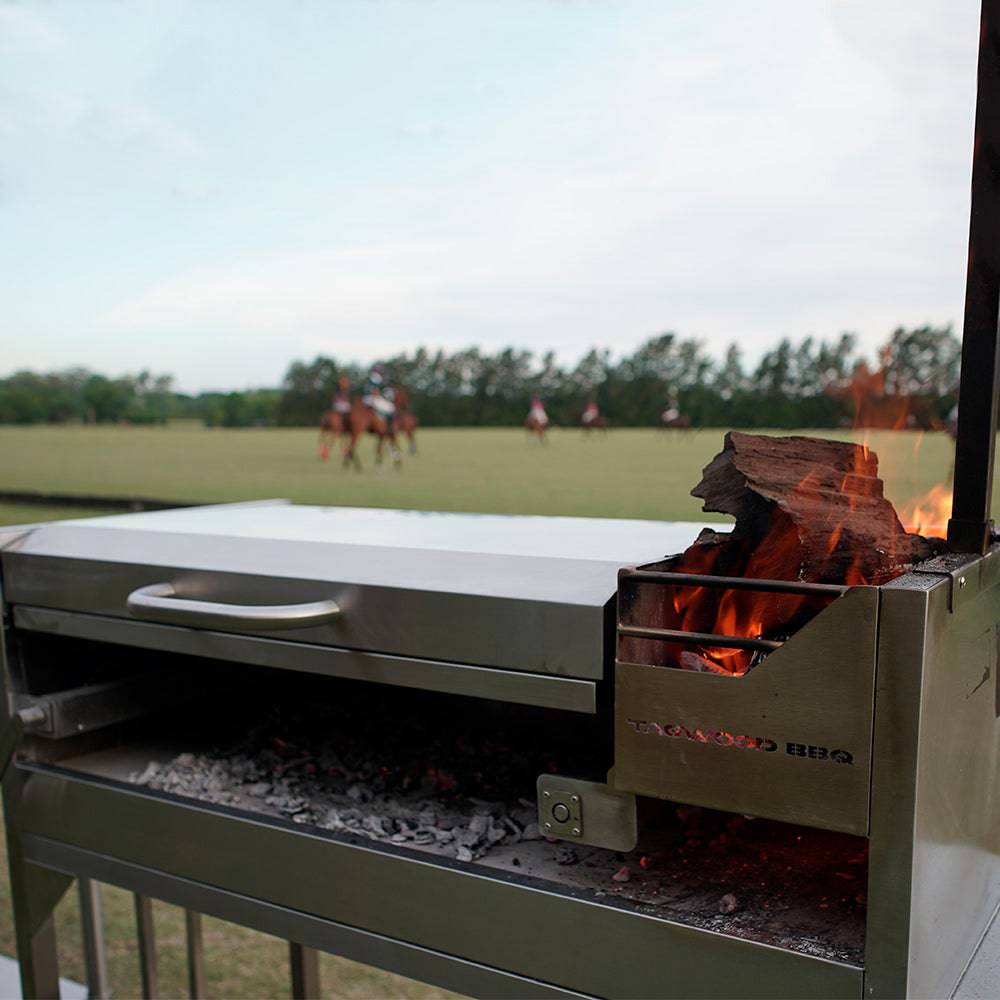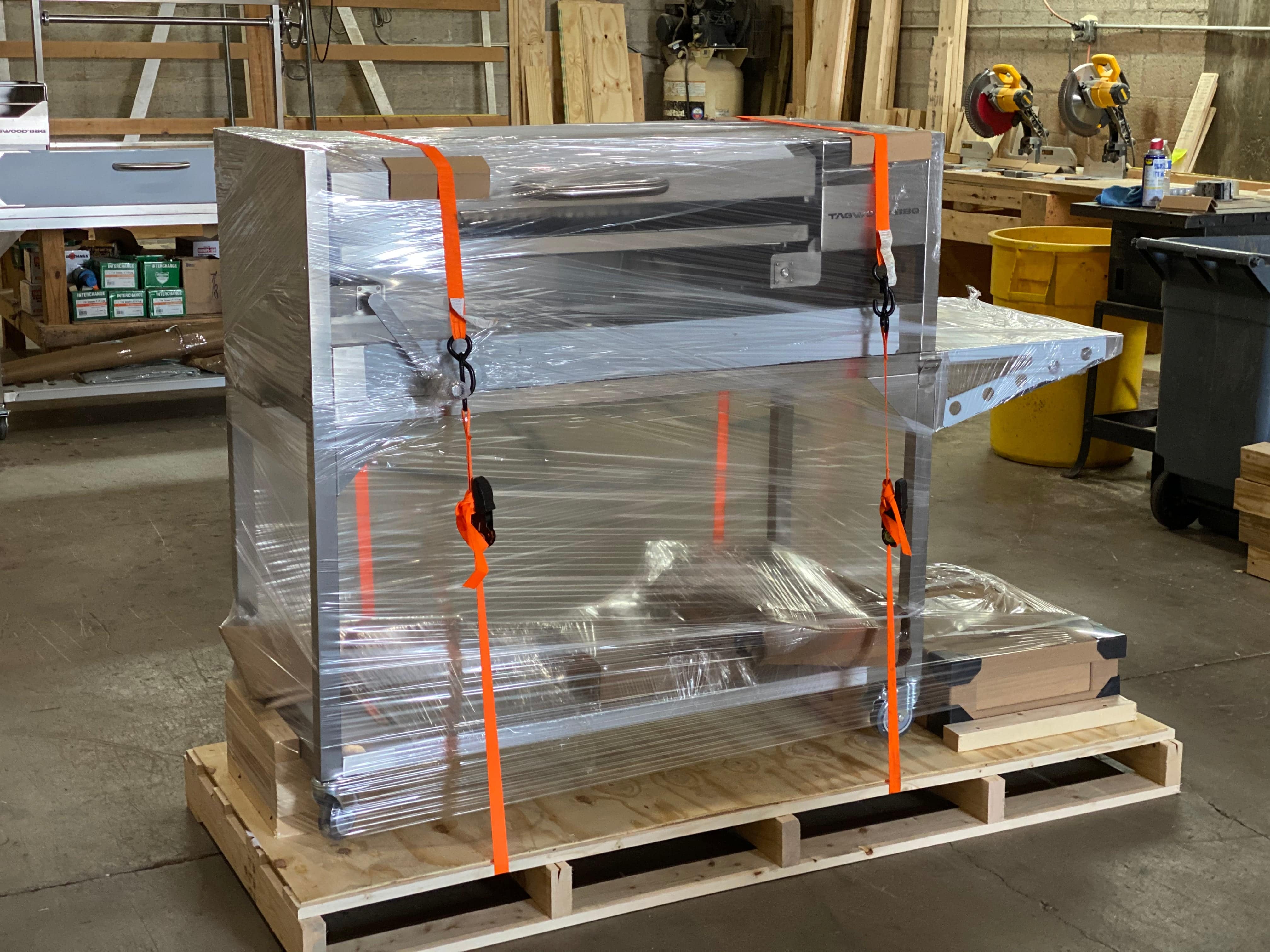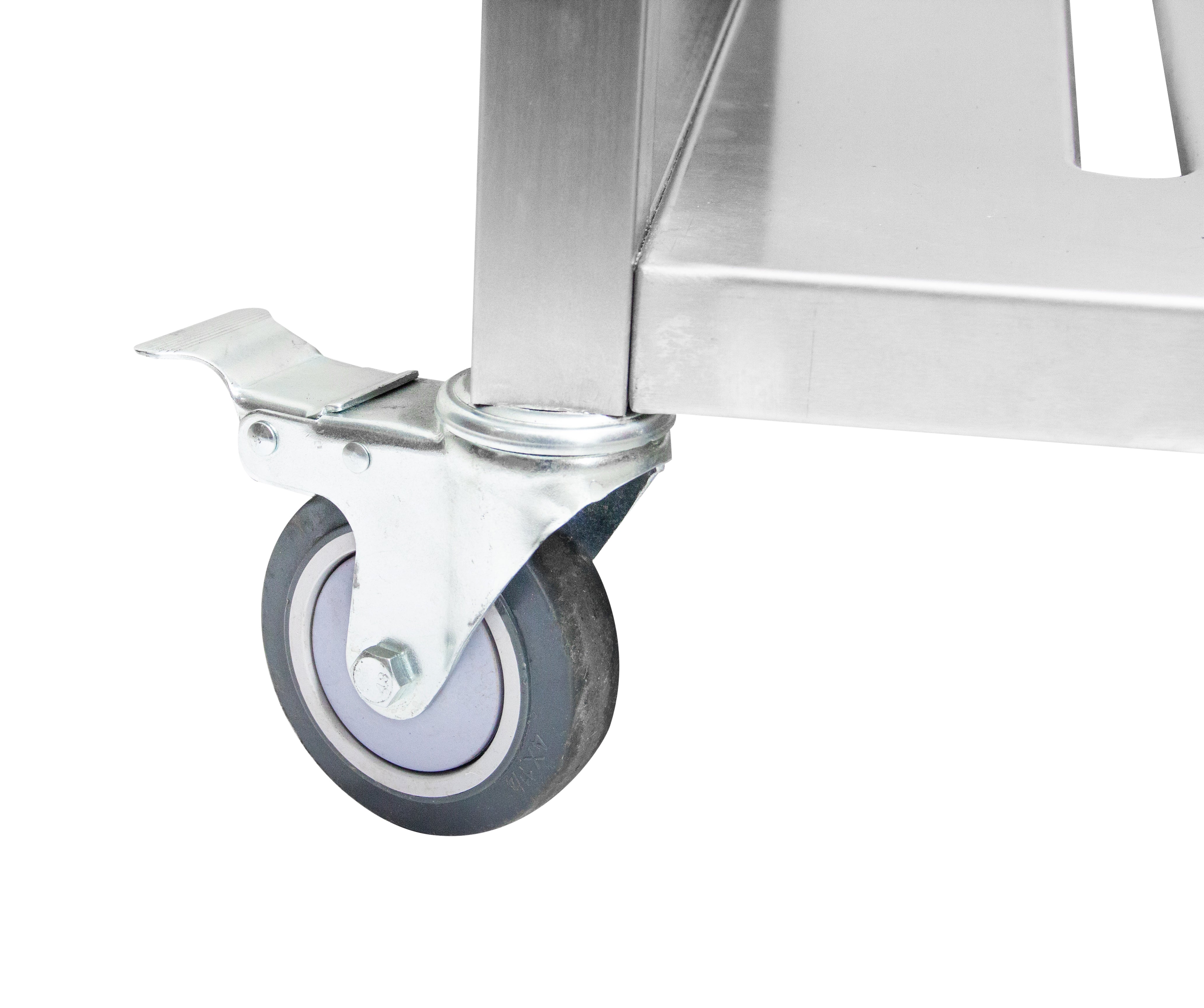 PROMO - Tagwood BBQ Argentine Santa Maria Wood Fire & Charcoal Gaucho Grill with Top Lid | BBQ01SS--
With the purchase of a BBQ01SS, get $675 value of 1 BBQ07SS Table Top Warming Brazier and 1 premium charcoal and firewood bag. Offer valid until October 9th, 2023. Cannot be combined with other promos. One use per customer. Items will be automatically added to your order.

The BBQ01SS Santa Maria grill also called Argentine grill is made entirely of 304 stainless steel to guarantee its performance. Includes a top lid when closed captures more heat and  creates a roasting environment. Ideal for slow cooking or food smoking.

Scroll down for more information.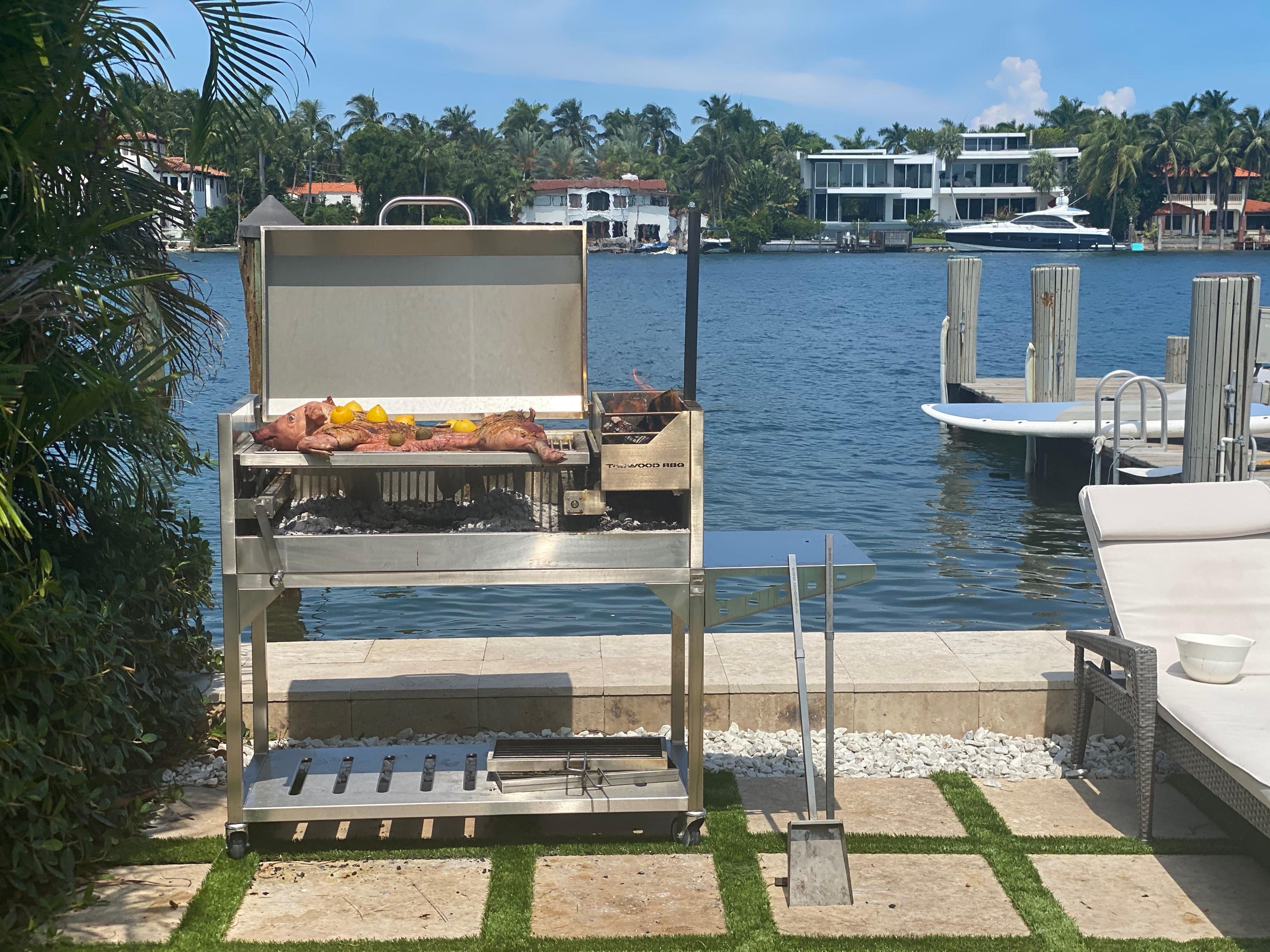 Secondary grate
Interchangeable griddle
Shovel and coal rake
UV and water resistant cover
FREE SHIPPING contiguous US.
Partially assembled
Patent Design
836 sq. in. of TOTAL grilling area
Main grilling area 35'' x 19''
ALL made of 304 Stainless Steel
Height adjustable grates to regulate grilling temperature
Round grates for optimal grilling and easy clean up
Firebox gaucho style brasero lights up charcoal or firewood quicker
Firebrick bottom, minimizes heat transmission to outside wall and extends product durability
Water drain system avoids bottom water accumulation
Side table attached for extra cooking space
4 Swivel casters improves mobility
Bottle opener
EAN: 7798325353293
It provides 3 different grilling areas: a main grate with a height adjustable system, a secondary grate and griddle where you can cook your favorite vegetables. Putting all these together, you will get a total of 836 square inches of grilling space. The firebox gaucho style brasero allows you to light up the charcoal quicker and with less effort. It maintains your fire lit and away from the food. You can use
wood charcoal or firewood based on your preference to grill like a gaucho. Slow cook some short ribs for 4 hours, some argentine sausage or chorizo or smoke a fish on the main grate while cooking some potatoes on the secondary grate . Bottom and right wall are covered with firebricks which extends the product durability but also helps spread the heat evenly. Also includes a bottle opener, UV resistant cover, 304 stainless steel shovel and coal rake, 4 swivel casters (2 with brake). 5 years limited warranty.
Main grilling area Sq. in.
Secondary grilling area Sq. in.
TOTAL grilling area Sq. in.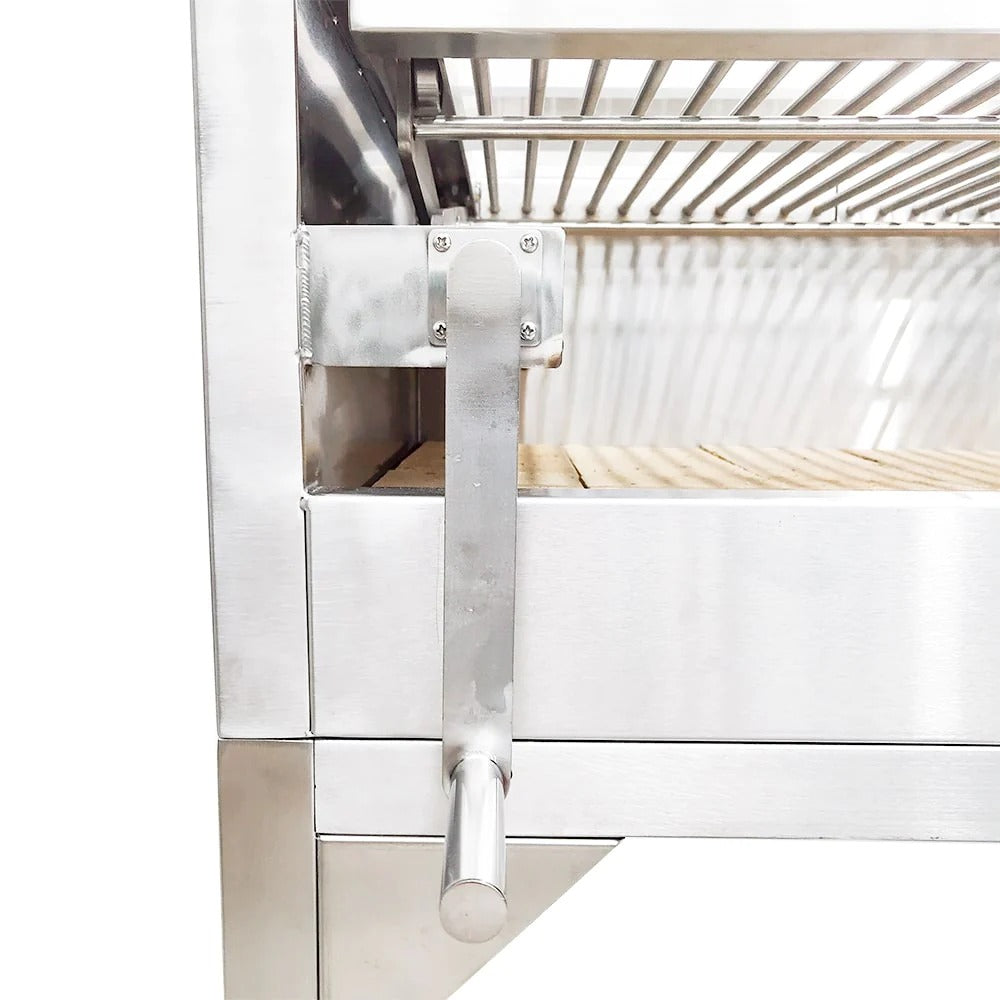 Height adjustable grates:
This feature gives you the possibility to adjust the height of the grates to control the cooking temperature. Use the wheel to move the main grates up or down depending on what you need (closer to the coals = more heat to sear | away from coal = less heat for slow cooking). It is a feature that you will find in many South American barbecues because it allows you to really master the grill.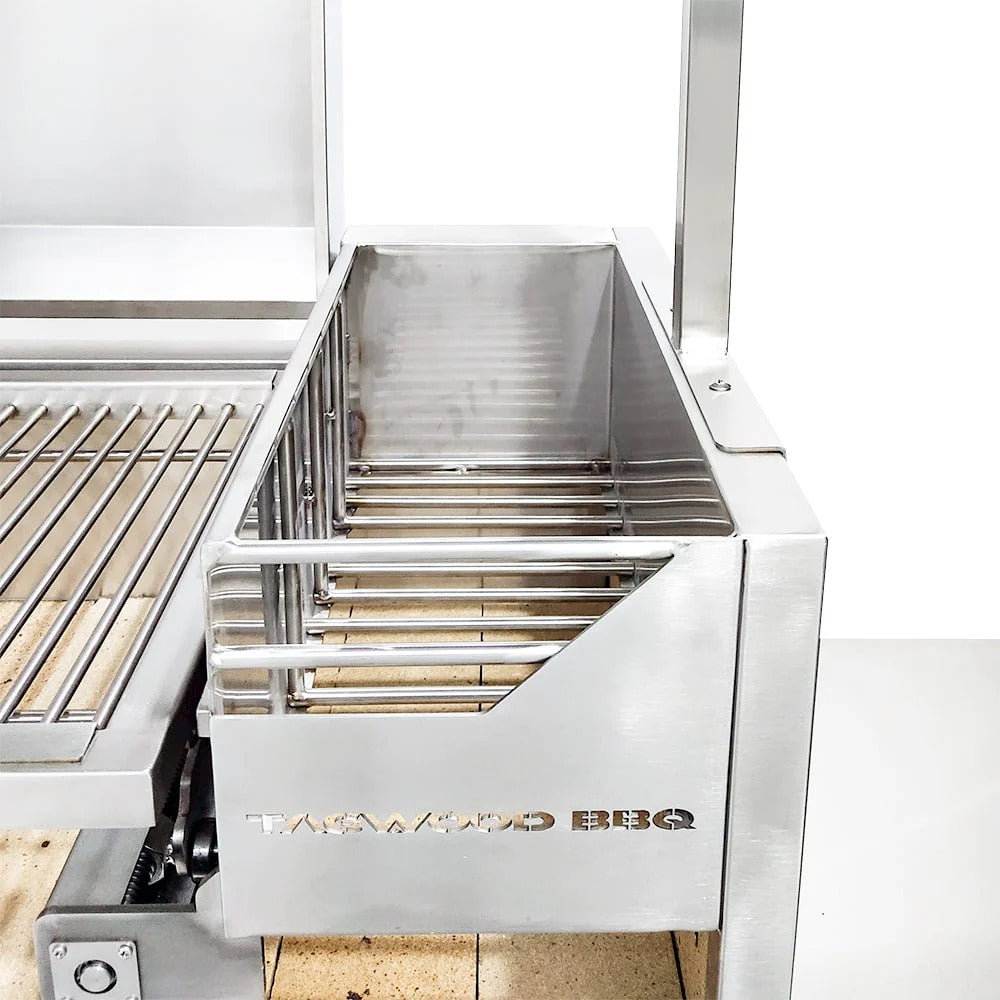 The firebox or brasero:
allows you to light up the charcoal quicker and with less effort. It maintains the fire lit and away from the food. You can use wood charcoal, briquettes or wood based on your preference. We recommend using lump charcoal and firewood. Once coals are ready, they will simple fall under. An easy and practical way to light up the fire and grill like a gaucho.
Firebricks:
help transmit less heat to the outside panels but also spreads the heat evenly throughout the grill. This feature is well known in the Argentine grill. It is also a must have because it extends the life of the charcoal grill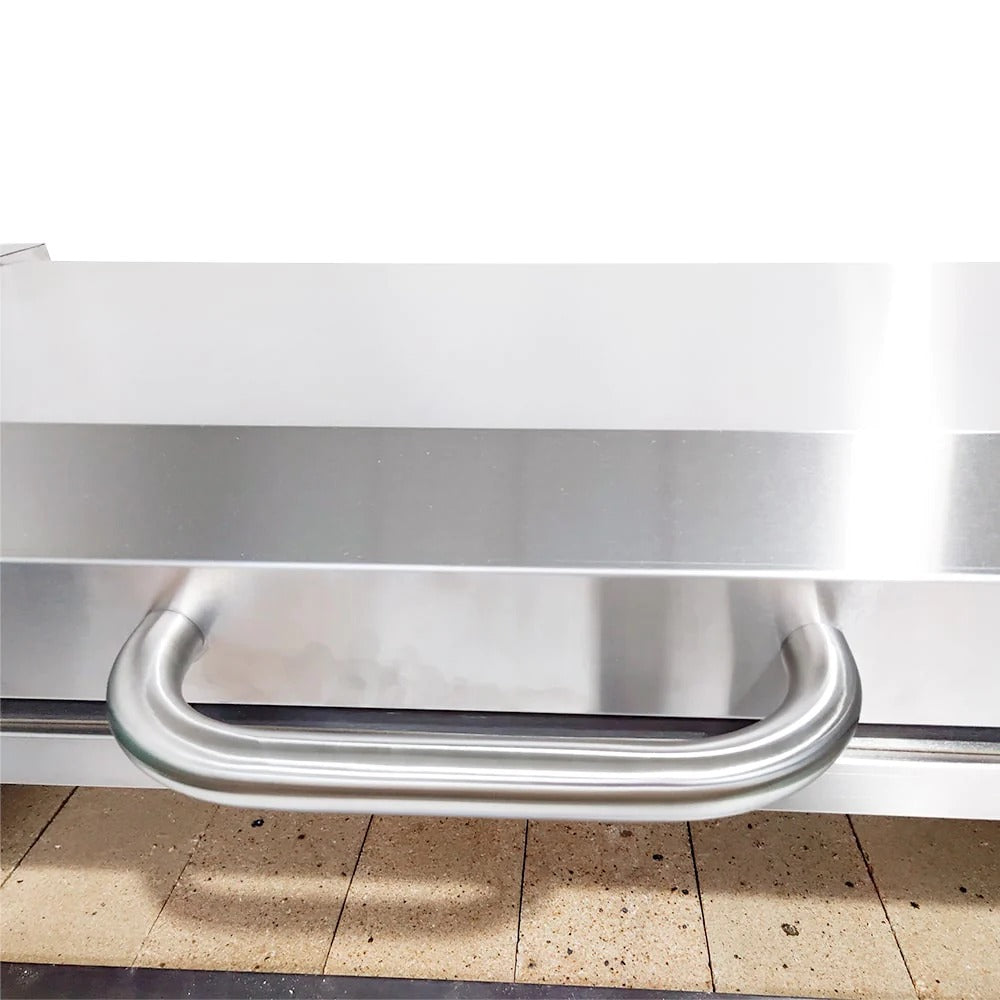 Top lid:
when closed it creates an oven efferct to slow cook or roast. Combine it with the height adjustbale grates and you end up with a complete grilling option.
FAQs
Our customer support is available at (786)376-7000. Call us, send us a message or Whatsapp with any questions!
What's the actual grilling area?

It is 35'' x 19'' . Secondary is 9'' x 19''


We already assembled part of your grill free of charge, valued at $250. This will save you a fairly amount of time. Basically, what you need to put together is the cart where the grill sits ( instructions provided). On the other hand, we offer a fully assembled option for $350.
How long will it take to get the grill?

On average, it will take us 10 business days to deliver to your doorstep although sometimes our freight companies experience some delay. Also, we offer expedite shipping service.
This product is rated 5.0 of 5.0 stars.
It has received 3 reviews.